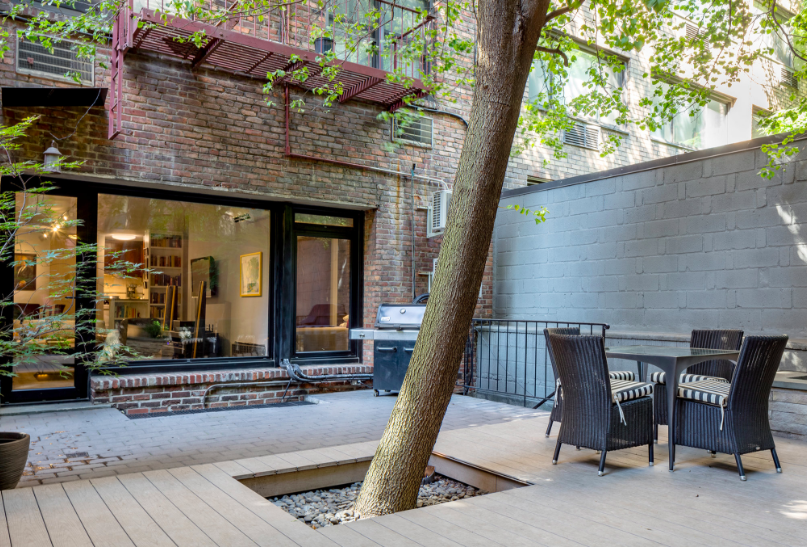 (Photo above is courtesy of The New York Times)
Everyone knows that selling a home can be a stressful experience, and that's especially true in New York City's super competitive condo market. Sometimes, though, what you need is a little luck (and a great apartment!). That's what happened to the subject of our story here. You can also see photos of his beautiful home (the one in the inappropriately named "Hell's Kitchen") here
James Interview
Let's start by telling me a little bit about yourself?
I grew up in a small town in Georgia. I had a small career there in the insurance business and then I came to New York in 1980 for the the first time. For most of my adult life, I've been in the insurance business one way or the other, including as owner of insurance agencies. I did that in New York for a number of years. For business reasons, I moved back to Georgia about 10 years ago and started some insurance agencies there that did well. For various reasons I sold that whole operation a couple of years ago and wound up here in New York again.
Most recently I have found an avocation as a classical music critic, and I've been focusing more on that. It does appear that I will be taking a new job in Atlanta before the end of the year so I'll probably be moving back there. That's why I'm selling my apartment.
What kind of building is your apartment in?
It's a small co-op building with I believe  around 30 units. It does not have a doorman, but we have a great super. It's a very stable building. A lot of people have been here a long time. The location is wonderfully convenient to transit and popular city favorites including restaurants, theaters and the Lincoln Center. It's really a great spot, and I like it because of the proximity to music institutions. What I love about this building is the sense of quiet and privacy right in the middle of the city. What I'll miss most is this location. There's also a great mix of tenants. There's a well-known theatre critic and a successful stand-up comic who is always on television. So it's just a nice mix of people.
As someone who is now selling your apartment, what are your biggest challenges?
Well, the market's a bit slow. It takes longer to sell an apartment. There's just not as many people looking. That said, there does seem to be a lot of interest in mine. I think my apartment is a little unusual because it has a large yard that is walled in and the same size as the apartment. It's 750 feet. Still not everyone is looking to pay for outdoor space. However, the large yard does bring in a more focused group of prospects.
Have you sold apartments before? If so, how is this experience different?
About 10 years ago, I sold the apartment that I had lived in for several decades down in Greenwich Village. It was more of a cookie cutter apartment. It was easy to make comparisons then since the market was really moving at the time, so it sold pretty fast. It was different in that sense.
I know that you've been socializing with your building neighbors. How is this impacting your feelings as you go through this process?
I love many of the people in the building. On the one hand, I don't like moving away from my friends. It's just a part of moving. On the other hand, many of them have been helpful in referring me to other people who are maybe looking for another apartment or were interested in being my broker.
Do you think there is any way that your broker should emphasize the friendliness of your building as part of the sales pitch?
Well, it's hard to do that just because you're going to say things like that. I'm not sure that a prospect who doesn't really know anybody here will take that at face value.
What are your three to five tips for owners of other apartments getting ready to sell?
The first is to make sure that everything is in good repair. Fix whatever needs fixing before you put the apartment on the market and give the place a really good wash and clean. Also find a broker who you're comfortable with and who is honest. A great broker is someone who is willing to spend the time to have frequent open houses and to show the apartment to whomever is available and whenever available. If you're living in the apartment, be prepared to straighten the apartment up and leave whenever you need to in order to facilitate a showing. For me, that also means letting the dog outside, so that people can experience the showing without me and the dog. Getting ready for a particular showing is minimal work because I try to always keep the place ready.
Conversely, do you have any advice for prospective buyers?
I've been on both sides of the coin. Look carefully at as many places as you need to, but be prepared to move quickly when you see something that you like.
How did you initially decide to buy this apartment? What were your chief criteria?
I knew that I wanted something close to Central Park. I knew that I wanted something close to Carnegie Hall and Lincoln Center. So, I had already focused on this neighborhood or the lower part of the Upper West Side. I wanted outdoor space, so my priority was finding a place with a garden. If not, then I was looking for a really nice rooftop or terrace. The garden is especially nice because it's on the ground floor, so it's easier to get in and out of. It's also nice for guests. It gives you a sense of privacy and having a garden is awesome if you have a dog.
What will you miss most about your building? And what are looking forward to in your next one?
What I love about this building is the sense of quiet and privacy right in the middle of the city. What I'll miss most is that location. what I look forward to is living more in a house and having more space. Of course, it's a different kind of life because you need a car.
When you move to a new place, are you eager to connect w/ your new neighbors? If so, why and how will you go about this?
Of course, I will. I found in the past that particularly in Atlanta, that people are eager to meet the new neighbors. So, it's not that hard. You see them on the street. You see them on the sidewalk. When you have a dog, it makes it easier because you're out a lot. You quickly form bonds with the people in the neighborhood.