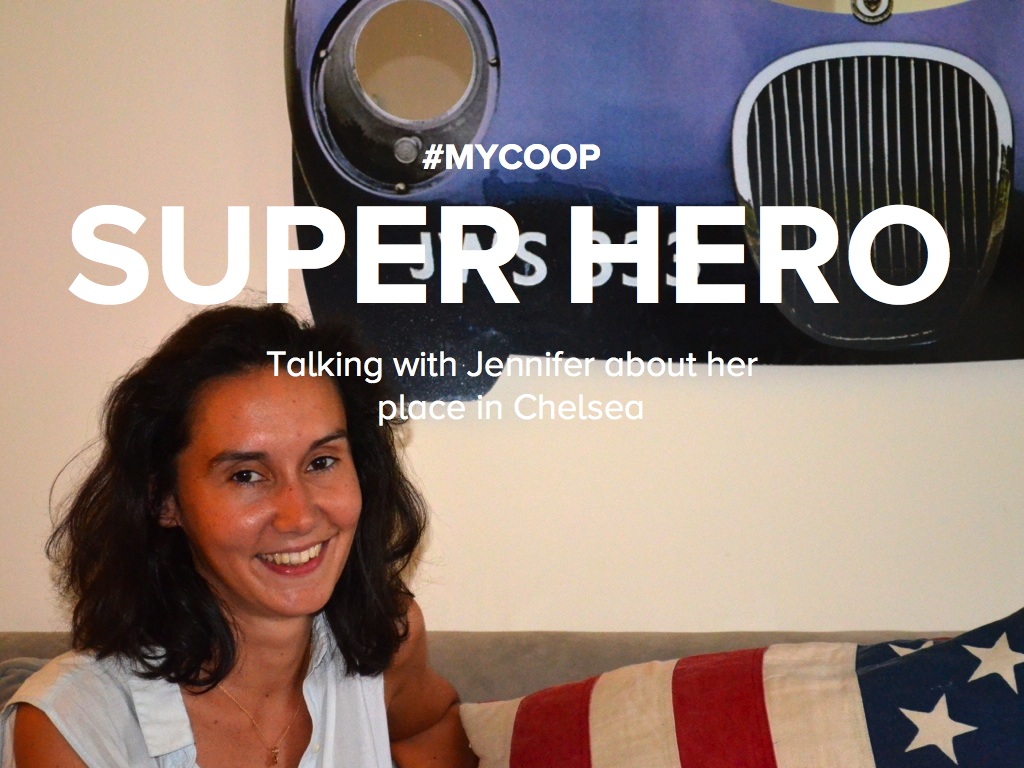 0
MYCOOP STORIES: Super Hero
In MYCOOP Stories, we ask interesting people about themselves and their places. In our latest installment, we talk with Jennifer, a wife and working mother of two great kids who lives in Chelsea.
Name: Jennifer
Age: 29
Where are you from: Paris, France
Where do you live: Cheslea, Manhattan
What do you do/What is your profession?
Account Manager at a digital marketing agency
Tell us a little bit about yourself?
I came to New York with my husband and my two kids, I love taking risks and being independent! I'm very positive and dynamic, I love living at 10000%.
What do you like most about where you live?
New York! Such a great city! 'Energy' and 'uniqueness' are the words that I would use to define this wonderful city. My place is comfortable, convenient and close to the river and park. I can enjoy fancy restaurants at night and the cChelsea Piers for running! It's a quiet and beautiful part of town.
What would you want to improve?
Communication between neighbors, have more "social life" in our building and share places in the neighborhood and local services. I would love to find other mommies like me!
What would you use mycoop for?
To find other families with kids in the building and create more social life around our kids. Get advice and tips just in case issues arise at home!
How do your neighbors currently stay connected?
Through our landlord, doormen and super.
Tell us something unusual/unique about your building or your neighbors?
I am not a huge fan of my super, but I love my doormen — they are always in a good mood! Each of them is a part of my day-to-day life. They see my two kids grow up everyday, and we share happy and sad moments.
Is there anything you wish you knew before moving in?
A lot of things…Grrr! Maybe that my neighbors downstairs love partying outside on their terrace! Or that my bathroom always has an issue (seems to be common in New York) or that I'm facing two brand new buildings under construction 24 hours a day!
What quote would you like to share with the mycoop community?
'The only place where a dream becomes impossible is in your own thinking'." – Dr. Robert H. Schuller
Join mycoop and share your story today!