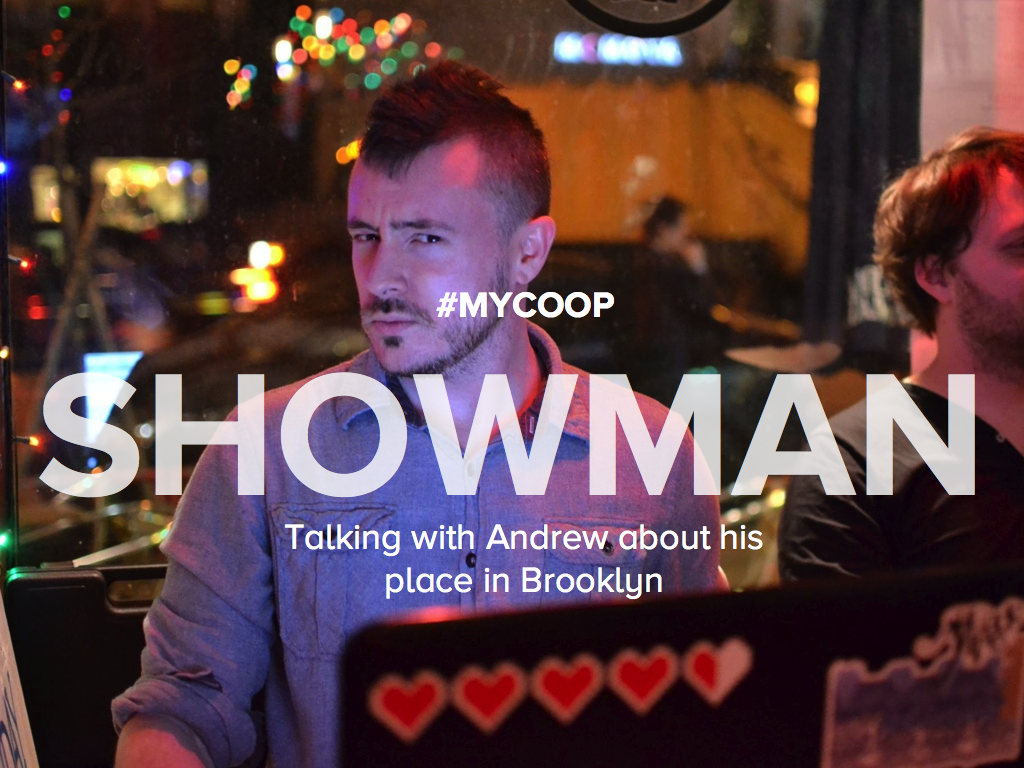 In MYCOOP Stories: Showman, we ask interesting people about themselves and their places. In our latest installment, we talk with Andrew, who enjoys entertaining neighbors with his rooftop film series in Bushwick.
Name: Andrew
Age: 34
Where are you from: Detroit, MI
Where do you live: Bushwick, Brooklyn
What do you do/What is your profession?
I am a showman, I host pop-up karaoke shows around the city and I DJ weddings.
Tell us a little bit about yourself and your hobby.
I was born and raised in Detroit where my parents divorced when I was 3 years old. I would see my father every other weekend, and he would always take my older brother and I to the movies. If there wasn't anything good playing, we'd hit the corner video store, where we each got to pick a tape.
My love for film goes as far back as I can remember, and has carried through to my life at Eldert. A handful of us are huge Game of Thrones fans. I'm a DJ, so I have a killer sound system, and my roommate has tons of fun tech stuff, including a super-fancy projector, so we decided to start screening episodes on our roof deck, which is ideal for viewings. The crowd grew week by week as more people became aware of what we were doing, and since GOT didn't start until late in the evening, we thought it would be fun to screen movies beforehand. Eventually, we worked out a voting system on Facebook. Anyone could add an option, and we'd screen the winner every Sunday before GoT.
The season finale of GOT was so fun and had such an amazing turnout that we decided to screen a movie every weekend for the entire summer. I began making pre-movie reels every week, themed to whatever movie we were watching, which was a fun way to let people know that the movie was starting soon and to hype them up. We ended up with people from all over the city coming out to BBQ and watch movies with us. I learned a lot this summer, about editing video and organizing and such, and so I think next summer's rooftop movie nights will run smoother and be even more fun.
What do you like the most about the building?
I have never, in my life, felt a stronger sense of community than with the people in this building. There are so many of us, from all over the world, of numerous races, ages, creeds, sexual orientations, covering a huge spectrum of interests and professions; So many different people, all with the same understanding that we're all in this together. If I'm in a tight spot, I take comfort in knowing that there are always people nearby that are willing to help if they can, just as they know that they can count on me. New York can be so strange in that so many people are crammed in so closely to one another, but not many people even know so much as the names of their neighbors. Me? I've shared drinks, laughs, and hugs with hundreds of them.
What would you want to improve in the building?
There are little things here and there, as there are with any building in NYC, but increasing rent is a problem. As Bushwick gentrification becomes more and more prevalent, rent continues to go up. It probably won't be very long until I won't be able to afford to live here without having a gaggle of roommates.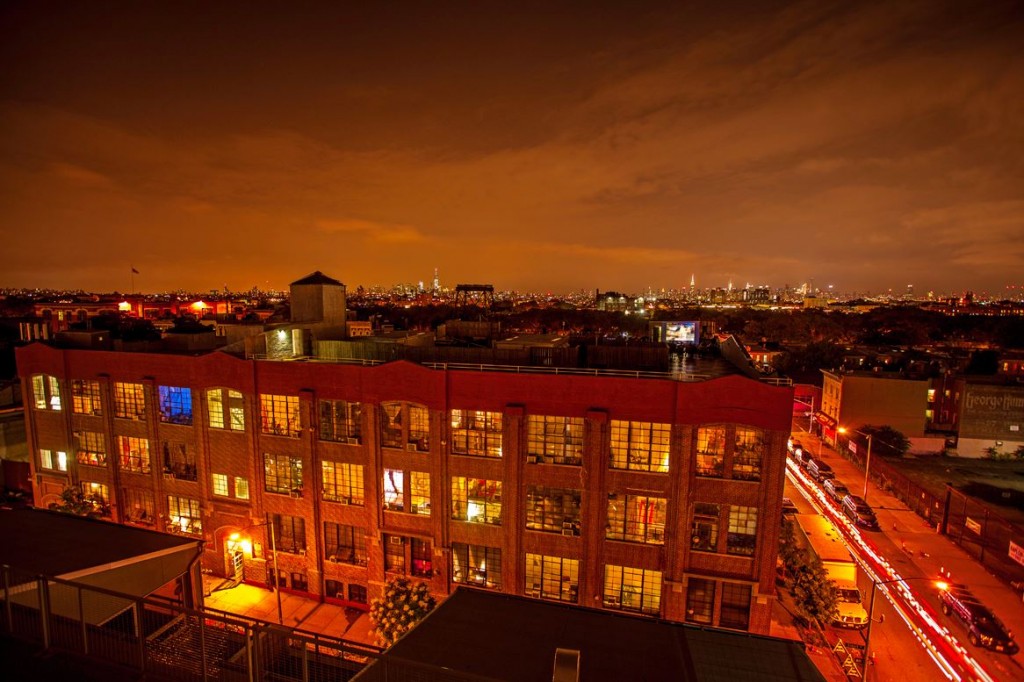 Tell us something unusual/unique about your building or your neighbors?
Our building has an ongoing rivalry with the building directly across the street. Ours is a very old building (built in 1911!) and has few amenities, but is a haven for artists; A weirdo sanctuary. We affectionately refer to it as the Pirate Ship, and even go so far as to mount a giant Jolly Roger on the roof in the summer. The building across the street is only a couple of years old and is rife with luxuries (pool, hot tub, sauna, rec room, etc.). It caters to young, successful, business-minded folk. We call it the Cruise Ship. Naturally, there tend to be some lifestyle discrepancies.
Two years ago, our Jolly Roger went missing and popped up on the roof across the street. It was up for all of forty minutes until a group of us, dressed as pirates, stormed the Cruise Ship to retrieve it. Seven of us in masks and bandanas waited on the street until someone opened the door, charged in, made our way to the roof, cut down our flag, and replaced it with a flag (read: blanket) that I had painted moments before. The Cruise Ship was now flying a flag displaying a mocking illustration. We remounted our Jolly Roger and sang Queen songs into the night, drunk off of our victory.
Is there anything you wish you knew before moving in?
I was desperate for a place when I moved in here. It was literally the first place that I looked at from Craig's List. The apartment had five (!) other people living in it, and my "room" was more of a closet with a curtain for a door. I was very reluctant, but the woman that was showing it, Christiana, convinced me to give it a month. Almost three years later I'm in a different, beautiful, gigantic loft in the building with two other amazing people, a bedroom that's perfectly suited for me, and Christiana (who also lives in the building) is a very close friend of mine. So, no; I knew exactly what I was getting into, and my expectations were far surpassed.
What quote would you like to share with us?
"What should young people do with their lives today? Many things, obviously, but the most daring thing is to create stable communities in which the terrible disease of loneliness can be cured." ― Kurt Vonnegut
Join mycoop and share your story today!