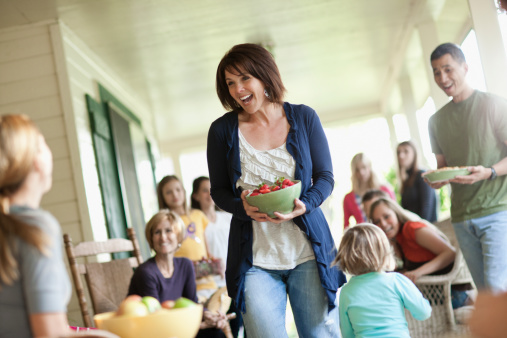 If you want to make things happen in your building, there are many actions you can take to help other residents and neighbors be engaged and active. Here are five tips for getting others involved.
1. Start a conversation
The easiest way to connect with others  is to become the building leader (or socialite) and start talking with your neighbors. This can be as simple as stopping and chatting in the hallway or laundry room, knocking on doors or hanging out in the building's lounge, if it has one. On MyCoop, if you want to suggest a new bakery that opened up around the corner, post on your building page (click the 'recommend' tab),  letting people know. If the heat in your building isn't working and you called your super, post on the building page so everyone is aware that steps are being taken to solve the problem. New people moving in the building? Just knock on their door, or when you bump into them in the hall, suggest they sign up for MyCoop and join the conversation about everything that's going on. Share photos and keep a fun record of what is happening with your neighborhood and building.  Post a flyer on your building's bulletin board letting people know that MyCoop.com is the hub for everything happening in your building.
2. Invite Your Neighbors and Friends
This is the easiest step for involving neighbors.  Simply click the "Send Invite" button on your building  page, and invite neighbors and other friends to join your building (or if they live elsewhere, their building). You add people you know through email or social media channels such as Twitter, LinkedIn and Facebook. You can also see who else in your building is already on MyCoop and add them as friends.  By adding other people in your building as friends, you can send them private messages – perfect for communication that you don't want made public on your building page.
3. Use Special Events and Holidays as a Way to Connect
We recently posted about Passover and Easter and how  holidays are great times to meet new people in your building, among other kinds of events and opportunities, like dance classes.  Holidays and events are changes of pace in our daily lives and offer an incentive to bring people together, including neighbors you don't yet know. Want to have a meet and greet BBQ in your building's backyard, or rooftop? Create an event. Running for the co-op board and want to get to know the tenants who could potentially vote for you? Organize a town hall style meeting by creating an event and posting an introduction on your building page. Offline methods, such as handing out flyers or putting up signs in the hallways, also work.
4. Share Goods and Services
Everyone has something to offer or something they need. Tell others in your building if you have a power drill available, too many bags of sugar, or a collection of novels that you're willing to share and discuss. Or, perhaps you need your dog walked the next day or are looking for someone who offers guitar lessons.  Maybe you want to get people together to volunteer at a soup kitchen, or some others to go to the local basketball court to play a pickup game. The marketplace is a great tool for engaging neighbors and people in your building so that goods and services, or opportunities for great activities,  are easily exchanged or shared. Next time you see someone post a flyer that they have a couch for sale on the building bulletin board, tell him/her to post on the marketplace. They'll get what they need even faster!
5. Let Others Know That They Have Support
Everyone is familiar with the occasional downside of urban building life: Getting used to a small apartment, an unresponsive property manager when the building isn't getting hot water, a lack of resources when you need a question answered. Everyone faces these kinds of issues, but  don't worry: they can be solved.  If you know a neighbor is having problems, knock on the door and see how they're doing and if you can help them in any way.  If there is a problem with the heat, call your super or property manager but then post on your building page so others can chime in so that everyone isn't making the same phone call to the super. If you noticed a new resident moving into an apartment, share a post with tips on how to maximize space. Refer others to the Discover page to find content that will help them have a better life at home. Your building page can be an ecosystem of resources.