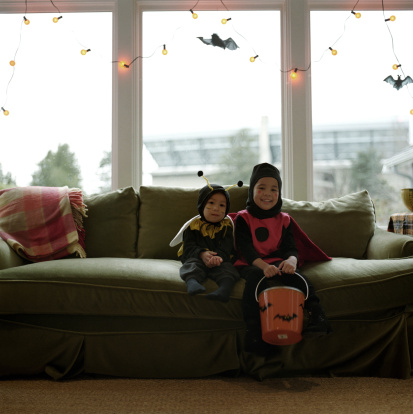 This is a simple guide to trick-or-treating in apartment buildings and enjoying the Halloween celebration with your family in the city.
Do you think that trick-or-treating is just for kids who live in houses? The truth is, this Halloween tradition can be fun for apartment dwellers, too. Your neighbors are close by, you never have to brave the cold, and your children can flaunt their cute or creative costumes without having to cover them with jackets and scarves.
Though some big apartment and condo buildings organize inside trick-or-treating routes for kids, those of us in medium-sized apartment buildings are usually ignored. If you have children who will be going trick-or-treating in your apartment building this Halloween, play it safe by doing the following:
Supervise young children. If young children don't like the idea of an adult shadowing them, you (or a nanny) can watch your children enjoy trick-or-treating from down the hallway.
Set rules for older children. Make pre-teens promise not to enter anyone's apartment and to return home by a certain time. Give older kids a cell phone to keep in touch, and instruct them not to ring the doorbell of any neighbor with whom you're not on good terms.
Enjoy treats later. Once you're home, check all treats carefully and discard any that look like they've been opened or tampered with. Also, keep homemade treats only if you know they've come from a trusted source. Finally, get rid of anything your children should avoid because of allergies or other dietary concerns.
If you're expecting trick-or-treaters at your apartment this Halloween, follow these tips:
Be inviting. Put a Halloween decoration on your door so trick-or-treaters know you're game.
Keep pets away. Keep dogs, cats, and other pets a safe distance from trick-or-treaters. Some children scare easily, and certain pets can get aggressive or run out of your apartment and into trouble.
Offer pre-packaged treats only. Play it safe by offering trick-or-treaters store-bought, pre-packaged treats. This will help parents feel confident that their children will enjoy a snack that's fun — and safe.
Consider fun, safe alternatives. A treat doesn't have to mean food. Given the many children with food allergies or other dietary restrictions, why not offer some non-food Halloween treats or coins – to those kids who want them?
Being a neighbor has never been easier – encourage your neighbors to join mycoop today!